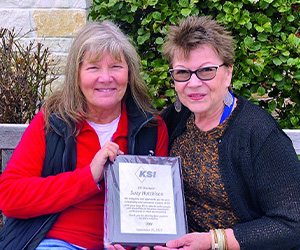 Suzy Hutchison, Sales Representative for Sharp Energy was recently named a KSI Champion. A KSI Champion is someone who fully believes in KSI's mission and the abilities of people with disabilities. A Champion willingly shares their experiences with others, and conducts business with a spirit of partnership, always seeking the win/ win outcome.
 
Photo Caption: KSI Director of Community Relations, Alicia Hollis (right) was excited to present a "KSI Champion" plaque recently to Suzy Hutchison, Sales Representative for Sharp Energy. KSI is thankful to Mrs. Hutchison for sharing KSI's passion for enriching the lives of adults with disabilities, as well as her outstanding and consistent support of KSI.  
 
Mrs. Hutchison has provided funds through sponsorships and volunteer time helping KSI fundraisers. She is extremely supportive of her community, especially people with special needs. Other KSI Champions include Steve Monz in 2018, Angela Spishock in 2016, Tom Spiezio in 2008, Linda Hitchens also in 2008, and John Garnick in 2007. This is an elite group of supporters who go above and beyond to make a difference in lives at KSI.
 
KSI is a not for profit agency, providing vocational training, employment, supported employment, community integration, transportation, day habilitation, and nutritional services to individuals with disabilities throughout Kent and Sussex Counties.  KSI is committed to making all reasonable accommodations in order to ensure that our programs and services are as accessible as possible to as many people as possible. To learn more about KSI visit their web page at www.ksiinc.org or call Alicia Hollis, Director of Community Relations, at (302) 422-4014 ext. 3015 to schedule a tour. Like us on www.facebook.com/KSIWorks.